The use of the Airtraq for routine tracheal intubation in high-risk cardiosurgical patients
BMC Research Notes , Schälte, University Hospital Aachen, Germany
123 consecutive ASA III patients undergoing elective coronary artery bypass grafting were routinely intubated with the Airtraq.
In conclusion our results demonstrate that routine tracheal intubation with Airtraq is feasible, fast and save in high-risk cardiac patients. The use of the Airtraq allowed maintaining a stable hemodynamic situation.
A comparison of Airtraq & Macintosh in routine airway management: a randomized, controlled clinical trial
Anaesthesia,. Maharaj . Univ. Of Ireland, Galway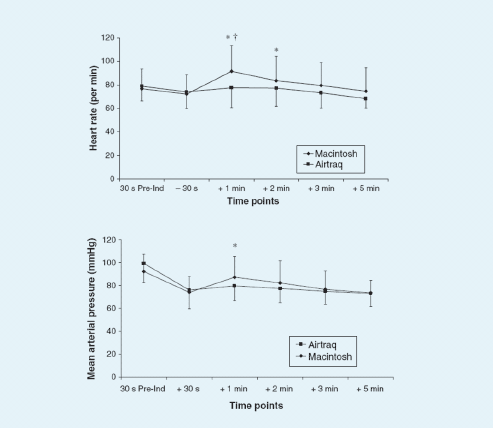 Hemodynamic Response to Endotracheal Intubation Comparing the Airtraq® with Macintosh in Cardiac Surgical Patients
Aleksandra G. Brzanov, Sabah Al Ahmed Cardiac Center, Kuwait
Sixty patients who underwent elective coronary artery bypass graft surgery.
Results demonstrate that routine endotracheal intubation using Airtraq in patients undergoing routine CABG surgery can reduce hemodynamically changes and allow maintaining a stable hemodynamic situation, compared to the Macintosh laryngoscope.